A Touristic urbanization builded for the rest and the pleasure that today is a magnificent reality, right in the most pleasant of the Gran Canaria's south micro-climate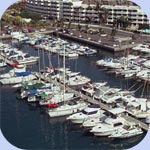 With tempeatures between 20 and 25 degrees celcius all year round, sandy beaches and transparent sea water where the sun is the most precise user, joined by a 900 mtr. peatonal stroll with spectacular views over the Atlantic sea.
A port for 526 recreational boats and transit yachts for visiting coastline zones of great beauty. Sail Club for the learning and practice of this sport, with an optimal condition sea, home of olimpic champions.
Nautical base for deep-sea fishing, where some capture world-records has been archieved. And in adittion scuba-diving, parascenging, windsurfing ...
Shopping centers where you can boy what you want and where you can taste all type of food in a diversity of restaurants with all types of spectacles.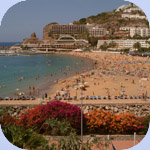 And there is more to see ....
For enjoy or for invest, Puerto Rico and Amadores demonstrate that quality and yield go united.