Port"-"
27º 46' 43",14 N. - 15º 42' 34",51W.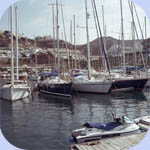 Dirección :
PUERTO RICO, S.A.
Radio Channel: VHF –
Avda. Tomás Roca Bosch s/n
D.P. 35130
Tff.: 928.561141
Fax: 928.561632
Municipal District: Mogán
Island: Gran Canaria
e-mail:
pricomarina@puertoricosa.com
Technical Description

IT HAS 2 BASINS:



E. BASIN

W. BASIN

SEA WALL

300 m.

230 m.

HARBOUR ENTRANCE

30 m.

20 m.

ENTRY DEPTH

6 m.

SURFACE AREA

46.000 m²

22.000 m²

MOORING DEPTH

5 a 3,5

5 a 1
PONTOONS

631 m.

298 m.
General Description of the Port
· Located on the S.W. coast of the Island of Gran Canaria

· Adjacent to the "URBANIZACION PUERTO RICO" residential complex, whose facilities include accommodation (hotels, bungalows, apartments), restaurants, bars, doctor's clinics, supermarkets, sports and leisure.

· Close to the "Puerto Rico" and "Amadores" beaches, with 300 m and 450 m of sand and offering a full range of services.

· 70 km away from the capital (Las Palmas de Gran Canaria) by dual carriageway.
Number of moorings.

LENGHT

NUMBER OF MOORINGS

Up to 6 m

-

From 6 to 8 m

249

From 8 to 10 m
From 10 to 12 m

79

From 12 to 15 m

57

Over 15 m

30

TOTAL

526

Maximum length: 45 metres
SERVICES

YES/NO

Haul out
Crane

-

Travel Lift

YES

Ramps (not reinforced/reinforced)
Individual services for boats
Drinking water

YES

Electricity

YES

Telephone

NO

Television

NO

Port Area Services
Fuel

YES

Radio

YES

Weather forecasts

YES

Maintenance Services
Naval (Painting, cleaning…)

YES

Repairs

YES

Storage

NO

Engines for sale

YES

Other Services (specify)
Boats for sale

NO
FACILITIES

YES/NO

Social centre

NO

Restaurant

YES

Coffe Shop

Commercial Department

YES

Showers and WC

YES

Hotel

YES (URB)

Bank

YES (URB)
Tariffs and Prices

Purchase: No moorings are currently for sale
Discount: 10% for periods over 30 days.
20% 1st quarter
30% 2nd quarter

Telephone number for reservations: 928.561141
Average annual occupation: 90%
Closest harbours:
TO THE EAST- "PASITO BLANCO" YACHT CLUB

TO THE WEST.- ·MORGAN MARINA